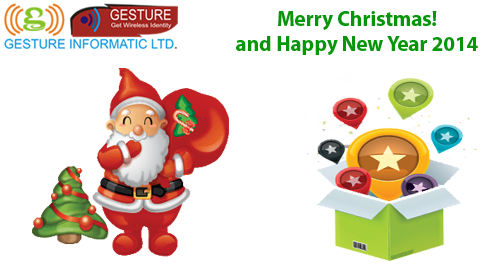 Year 2013 is about to end. Along with it, all our this year's ups and downs. Owing to you, our dear customers, we had far more of those first.
We believe that you also had a lot of reasons to be happy, relating to both business and personal life. On the occasion of the upcoming Christmas
and the New Year's Eve we wish you prosperity in all business matters, 100% customer satisfaction and success you deserve!
May your Christmas time be filled with joy and good cheer and the New Year bring you peace and happiness.
Gesture Team
Christmas is also a time of rest in the family circle therefore our support will be limited between 23.12.2013 and 01.01.2014.
No worries, limited doesn't mean unavailable ;) Our social media activity will be also limited until 07.01.2014.
We want to thank you once again for your trust in Gesture . As a token of our gratitude we prepared for you a special Christmas Promotion! Simply use this promo code:
gesture_Christmas2013 to receive a 20% discount for any number of our modules/products/services!
May this Christmas be even more joyful!
We hope that the upcoming year will be even better than 2013, for all of us.
Merry Christmas and a happy New Year!
Promotion is valid until 06.01.2014 and does not combine with other discounts and promotions.
Saturday, December 21, 2013